Why Replace?
Centuries-Old Craftsmanship on Today's Homes
Most homeowners trust the beauty and longevity of genuine materials. The attraction and lifespan of authentic slate and handcrafted flat slab clay tiles are undeniable and can be seen on homes and structures around the world… If you are considering a cedar shake roof replacement for your home or business, but have thought that genuine slate roof costs or handcrafted clay tile costs were out of reach, think again.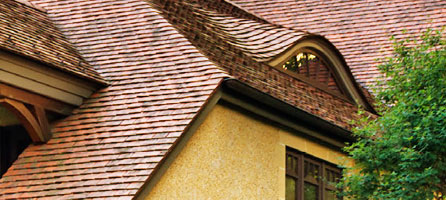 Why replace a cedar shake or synthetic roof with Genuine Roof Systems?
SlateTec® and TileTec® are lighter weight! With SlateTec, you can upgrade to genuine slate without the concern normally associated with traditional structural support requirements. TileTec can also be up to 40% lighter and does require an engineer's report; minor restructuring may or may not be needed
Competitively priced: Compared to inferior, faux synthetics, which can look like plastic, Genuine Roof Systems® are similar in cost with twice the lifespan
Return on investment: The value of a home increases with the proper installation of a real slate or clay tile roof because of the longevity of products
Aesthetics: Genuine slate and clay tiles age beautifully, where cedar shakes wear out, grow mold and moss, and ultimately leak
Maintenance: With a Genuine Roof Systems roof, maintenance is minimal; cedar shake and synthetic roofs require maintenance to repair damaged and curling shakes which result in roof leaks
Durability: Slate is stone—it tolerates weather and seasonal change with ease and is impervious to fungus and mold, as is handcrafted clay tile; cedar shakes are not and need to be treated with harsh chemicals, such as fire retardant and fungicide
Easy installation: No reengineering or restructuring of roof is needed when replacing your existing cedar or synthetic roof with SlateTec; TileTec does require an engineer's report and some minor restructuring may or may not be needed
Environmental impact: A Genuine Roof Systems roof will have a lower impact on the environment compared to cedar shakes and synthetics, largely due to its long life, which is beneficial to landfills
Cedar Shake Roof Replacement Video
This video discusses the Genuine Roof Systems process, including information on why our products are the best solution for weight-challenged roofs. It also shows a cedar shake roof being replaced with genuine Vermont slate.
Simple Perfection is Within Reach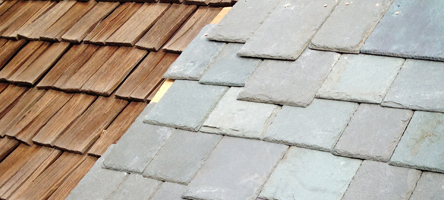 Beautiful real slate and handcrafted clay tile roofs for all homes. Do you love the aesthetics of genuine slate or handcrafted flat slab clay tile roofs, but think they're too expensive or heavy for your property? Traditionally installed natural materials are quite expensive and the weight limitations rule out most modern homes. Fortunately, Genuine Roof Systems have made the previously unattainable both affordable and achievable in all homes